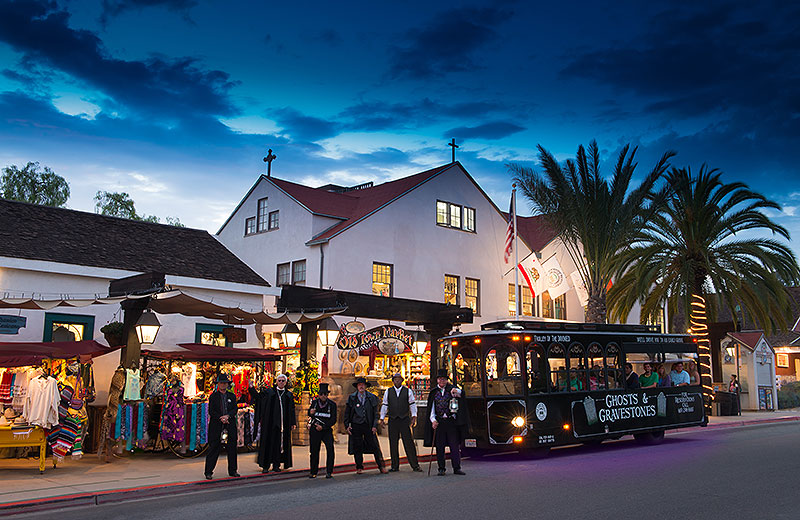 In a picturesque city, with miles of sunshine-cloaked coastline and turquoise waters, it may be
hard to imagine a time when gunslingers, gangsters, gamblers and other nefarious characters
roamed the streets. But in America's Finest City, San Diego, there is a mysterious, dark and
eerie side that yearns to be revealed—and you'll discover it on the Ghosts &
Gravestones Tour.
Board the Trolley of the Doomed and be prepared to take a journey through time where you'll
hear the true accounts of some of the city's most terrifying haunts and most haunted spots.
You'll walk through the centuries-old El Campo Cemetery where the spirits of the dead linger
and have been known to show themselves to unsuspecting visitors. When you arrive at the
Whaley House grounds, you'll quickly find out why the Travel Channel's America's Most Haunted,
considers this historic place the most haunted house in the United States.
Along the way, we'll transport you to some of the other frightfully eerie spots in San Diego,
including Pioneer Park, an ordinary park by day…but a totally different place when the sun goes
down. Paranormal experts say this is when everything changes, when those who haven't
crossed over to the other side are looming.
From the city streets to those places where the inexplicable and unexpected will send shivers
down your spine, this tour is not for the faint of heart—or children.
If you're just a bit curious or you're a bonafide ghost enthusiast, San Diego's best ghost hunting
experience is aboard the Ghosts & Gravestones Tour. It's ok to be afraid!
Length of tour: 90 to 105 minutes.
Click Here for More Information
Read More